Meet the Modevator: Karina Crooks
by Meredith Davison on February 15, 2018
Meet the Modevator is a monthly blog series profiling one of Modev's talented team members.
Tell us about what you do here at Modev
At Modev, my focus is on recruitment and event marketing. We hold over 40 events each year, and I love being part of the planning process and thinking of creative ways to get the word out. This connects closely with my recruitment marketing work as well -- an important part of our event marketing is making sure we promote the event in a way that attracts the perfect audience. Often, events are a great opportunity for our event sponsors to access talent, so a lot of planning goes into involving niche communities and drawing out individuals from a diverse range of backgrounds that have the skills our sponsor needs.
What has been your favorite Modev event to date?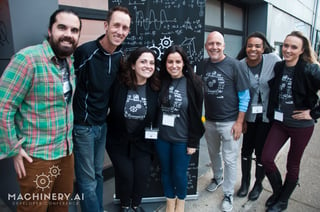 My favorite event to date was probably Machinery.ai, a workshop we launched last year in the Machine Learning and AI space. The kickoff events were held in Seattle and DC, and it was so exciting to be part of a completely new event series and the community that began to emerge around it. The energy was infectious and it was inspiring to see the range of talented individuals that participated, whether as speakers or attendees.
You also own your own company, tell me about that.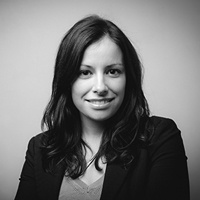 I own a company called Vivid Shift, focusing on recruitment marketing and helping organizations attract talent. My "why" is helping other people love their work -- and I accomplish this by connecting great organizations with the right talent. I'm not a recruiter, but instead use marketing strategy to help companies get the attention of potential candidates, communicate with them better and ultimately be in a position to grow their company because they're equipped with the right team. This connects closely with my work at Modev so I feel like it's a very natural fit.
I believe you have a podcast as well. What's it about and when are new pods published?
I launched The Business Code Podcast last year with one of my colleagues. The premise of the podcast is rethinking the way we view organizational success and holding corporate environments to a higher standard. We bring a variety of guests on the show who are experts in topics such as ethical leadership, employee engagement, and organizational health. We're in our second season now and new episodes come out every second Tuesday.
How do you stay productive?
Taking care of my health is really important, like getting enough sleep, taking breaks and getting exercise. Working remotely, it can be hard to take time for yourself when the lines between work and personal time are a bit blurred. Beyond this, I love my apps and chrome extensions - I have tools for pretty much everything to help manage my schedule and keep me on track.
Though a remote team, we're a tight knit group. Why do you think that is and how does it help you?
First, I think a lot of it is getting the right people on board. While we're spread out geographically, we share a common vision and a desire to be the best at what we do. Communication and recognition are also really important, and has always been a priority with our team. Whether it's having a virtual coffee with a colleague or being quick to recognize someone for a job well done, I think this is something we do really well. Being part of a team like this gives me the opportunity to learn from my colleagues every single day and inspires me to take risks and constantly move forward.