Here's How North Face Boosted Conversions Using AI
by Jenny Medeiros on May 1, 2018
Image credit: Fluid
Artificial Intelligence is no stranger to the retail industry. Increasingly more brands are dabbling in AI to give themselves a competitive edge. One implementation of AI which seems to have an "I want one" effect on brands is chatbots.

This effect is especially true for a specific kind of chatbot – those powered by IBM's Watson. Dear Watson is the "world's smartest computer" which began offering its digital intelligence for commerce not too long ago, promising brands a fighting chance of "taking back market share". It may sound borderline ominous, but large brands have already integrated Watson Commerce into their retail strategies. One of those brands is jacket extraordinaire, North Face.

In late 2015, North Face joined the AI movement and launched its very own virtual assistant powered by IBM's Watson to help consumers find their perfect jacket through conversational Q&A. After two months, the research not only showed a high satisfaction rate, but also that sales conversions were at an impressive 75%. Here's how it all went down.
The setup
To get their AI show on the road, North Face partnered with a design agency called Fluid, which IBM itself chose a couple years prior to showcase Watson's e-commerce abilities. The entire virtual assistant experience took 12 months to develop and was released on a responsive website, best accessed via desktop due to the large number of products. Meanwhile, the company began plotting a mobile-first UX approach to be released the following year.
How it works
Let's say you're in the market for a winter jacket. But honestly, do you even know which material would keep you the warmest or how heavy it has to be? To get some ideas, you go online and check out what North Face has to offer, but instead of having to scroll through pages and pages of jackets, you start a conversation with North Face's AI shopping assistant.

"Where and when will you be using this jacket?" She asks (we think it's a she). You type in something like, "Hiking in Iceland in November."

After giving a reassuring nudge that she'll find a jacket for those conditions, she then asks who the jacket is for. So you type in either male or female. The little loading circle spins around as she searches for thermal jackets that can resist the freezing Iceland winds for whoever you said it was for.

"Alright, let's see what we got." She quips before showing you a screen like this: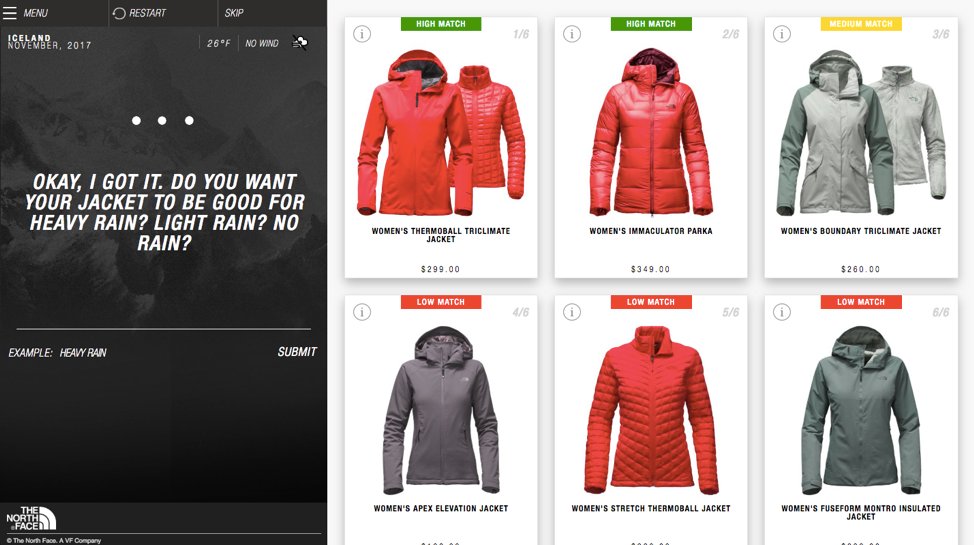 From here you continue answering her questions to refine your search, eventually narrowing down the options until you have the "perfect jacket for your adventure".

Of course, there are wrong answers you can give that will inevitably show a message saying, "Sorry, I didn't understand that." What's nice is she then follows up with the same question as before, but rephrased in a much simpler way. Granted, that simplified version would have been better used upfront, but hey, it's still a work in progress.
The results
Spoiler alert: it's good news for AI. After two months and some 50,000 users, the platform had a 60% click-through rate and 75% total sales conversions. Also, three out of four users said they would use it again. Success? Definitely.

Although the 2015 pilot seemed like it could've been done by any decision-tree Facebook bot, Watson uses machine learning so it can only get smarter from here on. After thousands of conversations with consumers, Watson gains insights into what works based on how often the recommended products end up in the shopping cart. This continuous learning opens the potential for companies like North Face to enjoy increasingly higher conversions over time.

So what does North Face have to say about all this? Cal Bouchard, Senior Director for eCommerce rightly says, "We think this is game-changing."
What's next for North Face
In 2016, North Face announced they'd be releasing the first mobile app using IBM's Watson. This time, you can openly speak to the AI assistant on your phone. Which means voice technology will be adding that special conversational flair to their already valuable customer experience.

Once again, voice interaction is the next step for personalized shopping. It's why forward-thinking brands are looking to get involved while the tech is still young. If you're one of these thinkers, there's a 3-day summit that will be buzzing with experts in all things voice, plus workshops for you to learn how to accelerate your company's digital initiatives. You can get your tickets here and start daydreaming about how AI can kickstart your conversions.