Voice Tech in Healthcare: Transformation and Growth
by Modev Staff Writers on May 23, 2022
Like so many other sectors of human activity, healthcare is undergoing a transformation driven by AI-enabled voice tech. The benefits so far have been extremely compelling. And because voice tech in healthcare is on a definite growth trajectory (as we'll see below), we can expect even more transformative experiences in how we interact with the health system and healthcare professionals and how we receive treatments.
And in the wake of the Covid-19 pandemic, we had little choice but to change how we provide healthcare. With social distancing becoming a dominant mantra, voice assistants in healthcare simply made sense - it filled a gap. And that drove impressive growth for voice tech in healthcare.
In this post, we'll start by taking a quick look at some numbers to understand just how much the use of voice tech in healthcare has grown over the last three years. And then turn our attention to some of the ways voice tech benefited the healthcare industry.
A few numbers
According to Voicebot.io's Healthcare Voice Assistant Consumer Adoption Report of 2022, which pools data from 2019, 2020, and 2021 and analyzes voice technology trends from the past two years, voice tech in healthcare is growing.
The report tells us that between 2019 to 2021, consumers looking to use voice assistants for healthcare grew by 5% - from 51.9% to 56%. And the number of consumers that actually used voice assistants for healthcare in the same period nearly tripled - going from 7.5% in 2019 to 21% in 2021.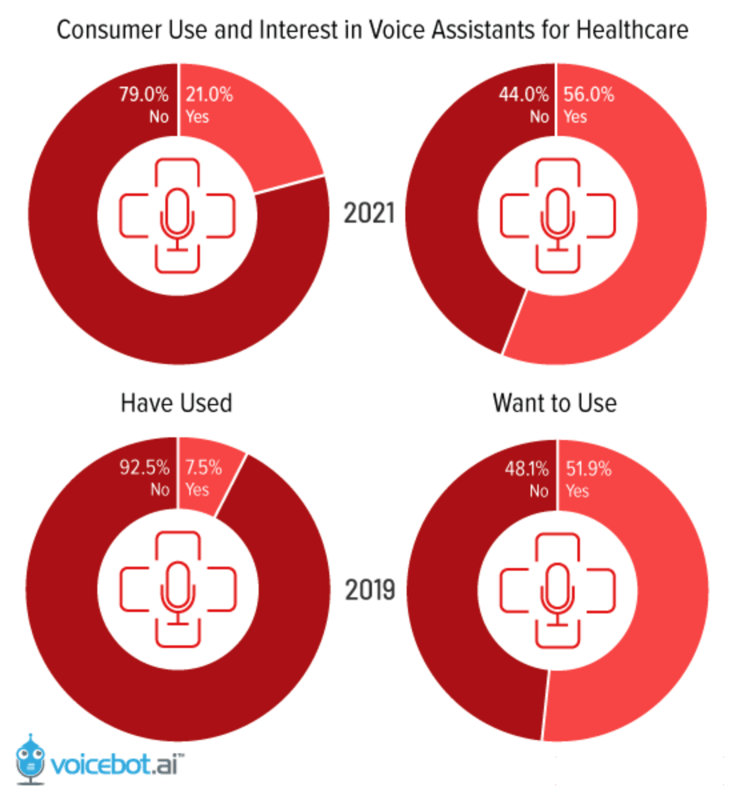 Source: Voicebot 2021
Voicebot then drills down this statistic a bit to reveal that we went from 19M U.S. adults having used voice assistants for healthcare-related services in 2019 to a whopping 51.3M users in 2020 and 54.4M users in 2021.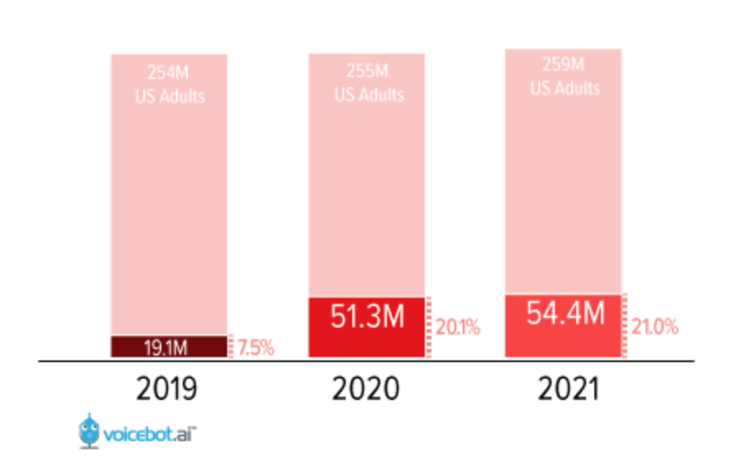 Source: Voicebot 2021
Clearly, the Covid pandemic was a significant driver of this growth. But the good news is that voice tech in healthcare is still growing.
Let's now look at some of the key ways voice assistants benefit healthcare.
Less administrative overhead translates to better access and better healthcare
Healthcare providers are subject to large amounts of administrative work. So much, in fact, that they actually spend more time on their clerical duties than on providing actual patient care. It's estimated that physicians need to spend roughly two hours on administrative tasks for every hour spent caring for patients. And the Covid pandemic has dramatically exacerbated the situation: as the influx of Covid patients spiked hospital admissions, it simultaneously generated a massive increase in administrative work.
Voice-enabled clinical digital assistants were able to relieve some of that pressure.
Clinical digital assistants (voice assistants used in a clinical context) use machine learning and natural language processing (NLP) to help healthcare providers with administrative tasks. For example, we're talking about tasks like clinical documentation and retrieving patient data (lab results or vital signs from the electronic health record (EHR) system). Some more advanced clinical assistants are even trained on highly specialized datasets, enabling them to understand medical terms across specialties with impressive accuracy.
In either case, voice assistants in healthcare have proven to reduce healthcare providers' administrative burden and provide them with more time to devote to patient care. It also enables them to see more patients on a given day, which translates to better access to healthcare from the general population.
Providing reliable answers to patient's questions
This one is perhaps one of the most intuitive uses for voice assistants in a medical context: getting answers to questions a patient may have regarding their particular situation. We're not talking about the voice equivalent to typing your symptoms in a search engine - which is not recommended. We're talking about carefully curated and physician-approved specialized medical content that can help patients through treatment and recovery.
A good example of this would be someone who has recently undergone hip surgery, wondering if it's safe for them to take a bath. Voice assistants provide an easy and convenient way to find the answers they're looking for from carefully crafted, scientifically accurate, and up-to-date content. This use of voice assistants in healthcare will help avoid unnecessary doctor visits, hospital re-admittance, and medical expenditures.
Helping patients stick to their medication regimen
Another example of where voice assistants are useful in healthcare is helping patients adhere to their prescribed medication regimens. It's extremely easy to set up reminders on a voice assistant. By configuring medication reminders, patients are reminded to take their medication at the appropriate time. Voice assistants can also inform patients about things like the required dosage, the last time that medication was taken, how many doses remain until the treatment is complete, etc.
And patients can also interact with their voice assistant to let it know that the medication has been taken, providing a very easy way to create an accurate medication log - which can be challenging in certain situations. Doing this using one's voice means that there's no paperwork, so to speak, making it so much easier to keep accurate records. Patients can present that data to their doctor at their next appointment, providing their physician with a clear picture of their condition and its treatment.
Wrap up
Voice assistants helped fill a pandemic-induced gap in healthcare. And as a solution, it was as intuitive as it was beneficial. And even as we ease out of the pandemic, voice assistants - and the gains they produced - will remain in healthcare and continue to grow. It's an exciting time for voice (and healthcare).
For more on this topic, have a look at our "Let's Talk Health" webinar, featuring a tech demo of HeyRenee, a voice-enabled digital care concierge specifically designed to improve whole person health in older, underserved and polychronic Americans. The demo, which is followed by a Q&A, is presented by HeyRenee CEO, Nick Desai, who demonstrates how the HeyRenee platform uses voice, text, and touch to reinvent the whole patient experience for our most vulnerable communities.
About Modev
Modev was founded in 2008 on the simple belief that human connection is vital in the era of digital transformation. Today, Modev produces market-leading events such as VOICE Global, presented by Google Assistant, VOICE Summit, and the award-winning VOICE Talks internet talk show. Modev staff, better known as "Modevators," include community building and transformation experts worldwide. To learn more about Modev, and the breadth of events offered live and virtually, visit modev.com.