VOICE Reports: Voice Business Integration Survey
by Modev Staff Writers on March 14, 2022
AI-powered voice tech keeps on making strides. It seems that as soon as you focus on one piece of voice tech, a new one crops up. To say that voice tech is growing at a furious pace is an understatement. AI-powered voice tech drives growth in every industry it touches - and it pretty much touches them all.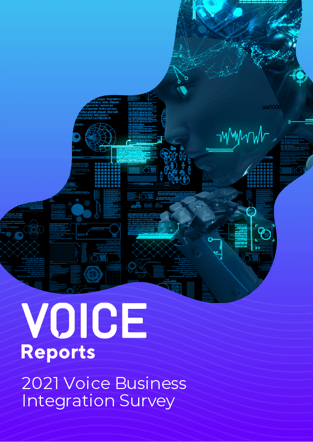 As brands from all industries embrace the digital revolution transforming our world, they're incorporating voice technology in their product and services offerings and their business and marketing strategies. Voice tech can no longer be considered an add-on service. It's now at the core of contemporary business strategies.
To measure that adoption and qualify it, Modev teamed up with Speechmorphing Inc., two leaders within the voice tech industry, to survey some top brands and see where they're at with voice tech adoption and how they're integrating the tech into their business.
The report, which is based on the survey data, is enlightening, to be sure. And it demonstrates just how vocal our future will be. Let's take a look at some of the key takeaways.
Adoption Phases
Regarding industry adopting the technology, we have 47% of surveyed businesses at the planning stage, and 20% of those surveyed are in the final stage - with roughly 22% in early execution and around 12% in mid execution. What does that tell us?
We all know that businesses can sometimes be slow to adapt to new technology trends. Not because they don't want to. But because setting up a business strategy is costly in terms of both time and money. And so, to make sweeping changes, brands really need to be incentivized to do so. And with 47% now in the planning stages of that transformation, it's probably safe to assume that they see the incentive. Some may even have concluded that not embracing voice tech will have a cost.


Voice Assistants
In drilling down a little bit into those adoption numbers, we find that 69% of businesses surveyed felt that providing automated services made accessible through a voice assistant was a critical part of their business strategy.
And it's not hard to understand why: better customer experiences drive growth, and AI-powered voice assistants provide enhanced experiences while reducing costs.
Sonic Branding & Digital Voices
Moving onto sonic branding, the sounds or songs associated with a brand, product, or service, we find that adoption is lower but growing nonetheless. 33% of those surveyed stated that sonic branding was an important part of their digital branding strategy, with just under 30% saying it is somewhat of a priority.
While the numbers here may not seem as impressive as the above, it represents a massive growth in awareness of sonic branding from just a few years ago. We're starting to realize that our ears are just as important as our eyes,
Similarly, 32% of businesses surveyed told us that providing a customized digital voice for their brand was a high priority. And another 32% stated it was somewhat of a priority. Taken together, that's 64%, and that's massive.
Qualities & Capabilities
Turning our attention to the qualities brands want their voice assistants to possess, the top three were:
Voice quality - The voice assistant should be easy to understand, and the interactions should be smooth and without fluctuation.
Natural-sounding voice - The voice assistant shouldn't sound robotic. It should sound as close to natural human speech as possible.
Support multiple languages - The voice assistant should have multi-language support built-in.
Tying into these desires are the capabilities their voice assistant should have. Looking at the top three again, we find the following:
Support for and recognition of multiple languages and accents - A good voice assistant should adapt to the speaker, regardless of the language they speak. It should also recognize dialects and accents without flinching.
Ability to customize the voice - Brands want to customize the voice assistant's voice. Tying into sonic branding, brands would like their voice assistant to speak in its own voice, making the voice assistant's tone of voice as recognizable as the brand.
Voice reminders - Possibly the easiest to achieve, a personal voice assistant should go beyond just providing answers to questions about a set of products or services. It should provide practical tools for everyday life, like voice reminders about meetings, emails, and other tasks.
When all is said and done…
Finally, all of the above ties into two general yet critical takeaways:
69% of businesses surveyed stated that voice-enabled digital assistant tech is critical to their overall digital transformation plan. At the same time, 64% said that customized digital voice is a priority for their brand.
Voice is with us, it's growing, and it's here to stay. The future is definitely vocal. The fact that so many brands see voice tech as an inescapable part of their digital strategy shows how unequivocal that point is.
There's never been a better time to start talking about voice.