Getting Started with Voice? 5 Tips for Designing, Building & Marketing Your First Voice Technology Experience
by Sofia Altuna on April 26, 2021
Voice has taken a major leap forward, and it has emerged over the last couple of years as a new foundational interaction model in computing. According to Juniper Research, consumers will interact with voice assistants on over 8.4 billion devices by 2024. As users start to have access to voice technology most everywhere, brands will have to start incorporating voice technology into their overarching strategy. More than ever, consumers expect brands to bring versatility, creativity, innovation and convenience to their user experience and daily lives.
Voice platforms can play a significant role in helping brands explore voice opportunities; everything from technological innovation, to product development and product roadmaps, to using voice as part of a comprehensive go-to-market strategy.

With 91% of brands investing in voice (according to Adobe), brands that are using voice technology as part of their strategy today, create new experiences for their users today, as well as learn and invest in their future customer interactions. In other words, these brands are developing the technical know-how to navigate the new computing era.

As many brands begin to explore how to add voice to their company's strategy, the big question is always - where do you begin and how do you maximize your investment?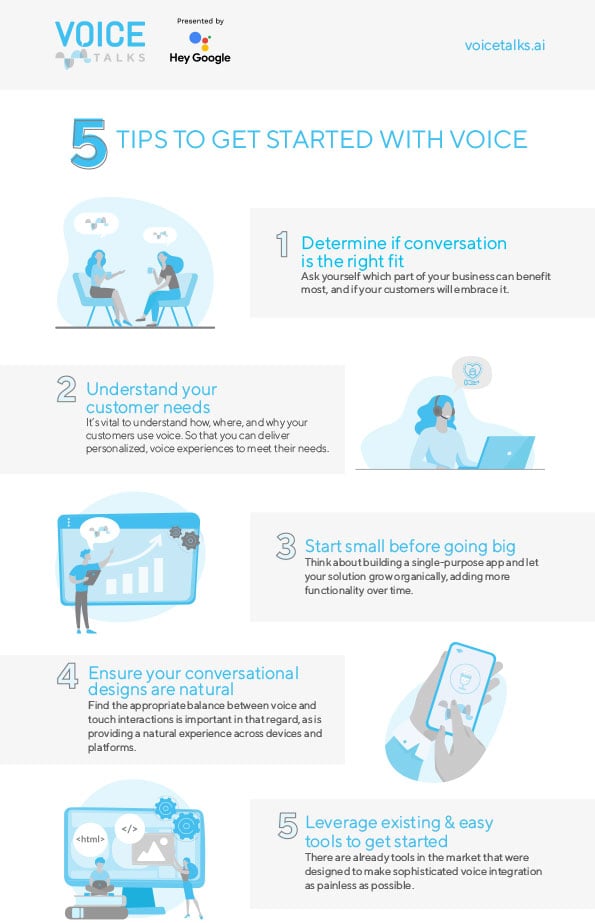 5 Tips to Get Started with Voice:

1. Determine if conversation is the right fit - As with any good business plan or marketing strategy, you must research and understand the impact conversational technology can have on your overarching goals. Ask yourself which part of your business can benefit most, and if your customers will embrace it.

2. Understand your customer needs - Some of the most successful companies in this digital transformation age have been designing apps from the customer's perspective. It's vital to understand how, where, and why your customers use voice. This way, you can deliver personalized, voice experiences to meet their needs rather than the other way around.
3. Start small before going big - While you may be aspiring to create many content and deliver multiple use cases via voice , it's better to start small. Test a single implementation and become comfortable with voice technology before applying it to other areas of your business. You'll also want to avoid overwhelming your customers by attempting to solve every issue with voice technology or by introducing too many features at once. Instead, think about building a single-purpose app, enable your users to easily discover it and let it grow organically adding more functionality over time. Ideally, great solutions are either user journeys that your customers do frequently, or that usually take multiple steps to complete (as voice can help reduce that friction).
4. Ensure your conversational designs are natural - Developing and programming voice-enabled technology is a time-consuming process. And a significant portion of that time should be spent making sure that its interactions are intuitive for your users. Finding an appropriate balance between voice and touch interactions (aka multimodal) is important in that regard, as is providing a natural experience across devices and platforms.
5. Leverage existing and easy tools to get started - There are already tools in the market that were designed to make sophisticated voice integration as easy as possible. Start by learning to use some of these tools and build your first project with them. As you become more comfortable with voice technology, your needs will grow and become more focused.
If the DIY approach isn't for you, consider hiring a professional specializing in voice technology. Voice technology represents a new opportunity for brands to engage with users, and the better your users' experience with voice tech goes, the more likely they are to embrace it going forward. Keep in mind, however, that customers expect this technology to improve with time, so don't worry if it's not perfect on day one. Continue listening to your users and improving your experiences, as with any product, the best ones will always be the ones that continue to evolve.
Interested in learning more from the best minds in the voice industry? I will be hosting VOICE Talks live on April 29, where we will explore tips with guests, and I will provide my own recommendations for getting started with easy-to-use technology, as well as explain how big media, like Snapchat, is using voice technology.
The April episode, "Best practices for designing, building and marketing voice experiences," will feature practical advice from experts like:

Wally Brill, head of Conversation Design Advocacy & Education, Google - will provide a product deep dive and share some of the lessons his team has learned in building games and stories for smart displays and more.
Jessica Dene Earley-Cha, developer relations engineer, Google, Denis Valášek, co-founder, yadada, and Allen Firstenberg, project guru at Objective Consulting, Inc. - will participate in an Ask the Expert segment.
Brandon Kaplan, founder and CEO, and Heather Peterson, creative accounts & product strategist, Skilled Creative - will recount their experiences building immersive games and provide insight on how to market and monetize voice experiences to gain users.
Sarah Nelson, senior director, Strategic Partnerships, Samsung - will participate in a featured Partner Spotlight.
Noelle Silver, SVP, AI Solutions, ElectrifAi - will discuss why brands need to explore and evaluate voice now and tips to properly evaluate voice technology.
You'll also want to know what brands can do post-launch to increase this powerful technology's reach.

Are you a developer, marketing agency, or brand looking to integrate voice technology into your app or website? What are some of your challenges? Join us for the next episode of VOICE Talks April 29 to learn more.