VOICE Talks Wins a Webby!
by Modev Staff Writers on May 18, 2021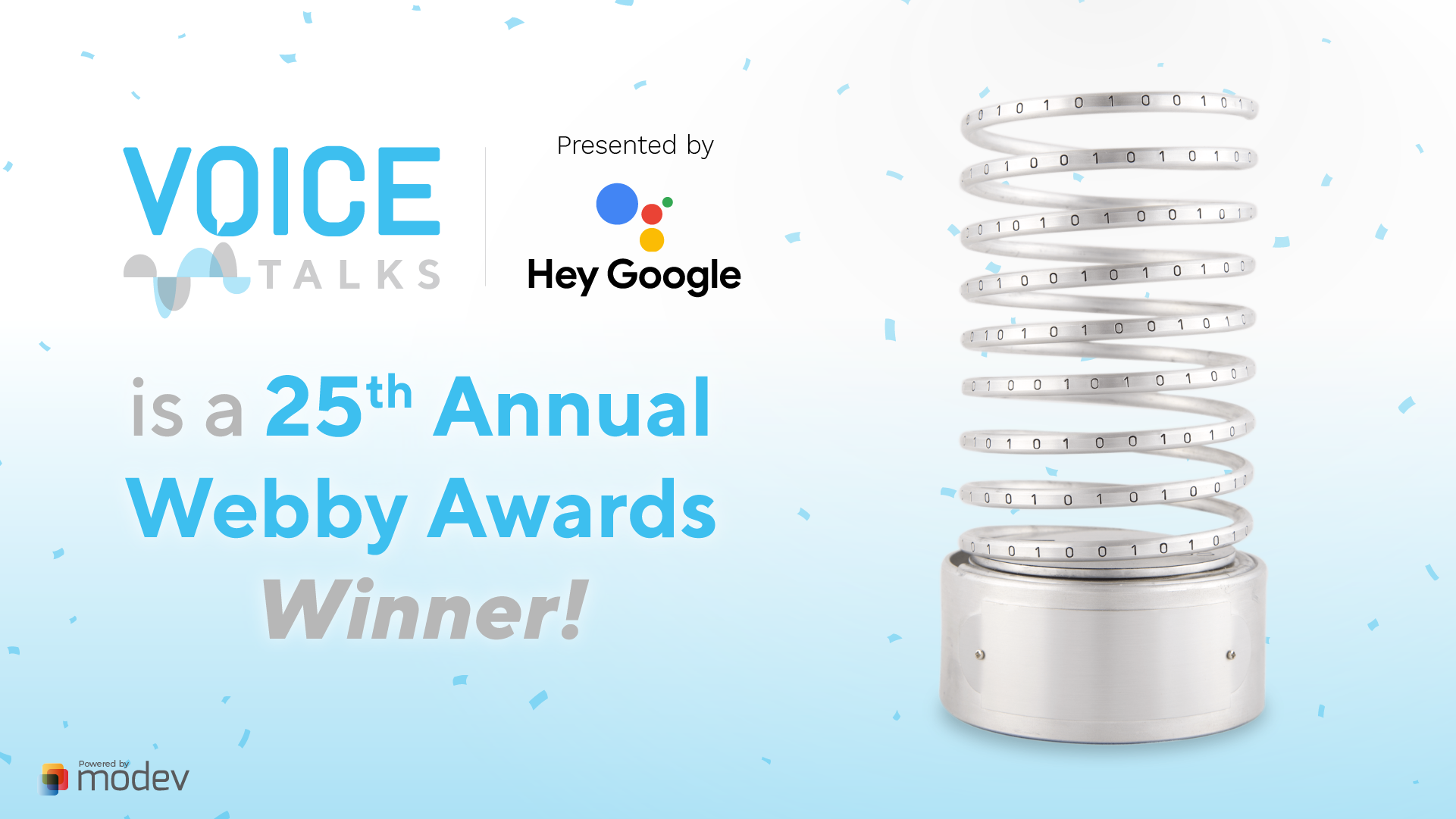 With just a year under its belt, Modev's "VOICE Talks" is now the winner of a Webby! The team accepted the award for the "Webby PV Winner in Virtual & Remote: Technology" category today in the 25th Annual Webby Awards.
The Webby Awards is presented by the International Academy of Digital Arts and Sciences (IADAS) and is hailed as the "internet's highest honor" by The New York Times.
Four other innovative tech companies were also in the running for that category, but ultimately the community chose VOICE Talks as the winner.
"We are incredibly honored to be receiving this Webby Award. This recognition is a true testament to the hard work and dedication our talented team of writers, producers, videographers, and marketers put into every episode of VOICE Talks," said Pete Erickson, CEO of Modev. "VOICE Talks was developed for our community of viewers, and we're grateful for the support of the Google Assistant Product Partners team and all who have tuned in throughout the past year."
Watch Modev's 5-Word Acceptance Speech
Produced by Modev and presented by Google Assistant, VOICE Talks launched in April 2020 during the height of the pandemic as an opportunity to bring together the technologists, engineers, and marketers who make up the voice tech community. A little over a year later, the show now has more than 130,000 subscribers with a fanbase of voice tech and conversational AI enthusiasts.
"We're proud to bring the latest advancements in AI Voice to the broader community through engaging discussions with voice experts and thought leaders in the space," said Leslie Garcia-Amaya, Ecosystem Partnerships lead for Google Assistant. "It's incredible to see how much the content has resonated with the community, a testament to the VOICE Talks team's great work in bringing this show to life over the past year."
"Honorees like VOICE Talks are setting the standard for innovation and creativity on the Internet," said Claire Graves, Executive Director of The Webby Awards. "It is an incredible achievement to be selected among the best from the nearly 13,500 entries we received this year."
Each hour-long episode of VOICE Talks is aired monthly. Subscribe now to watch the next episode of the award-winning VOICE Talks live, JUNE 24 at 2 p.m. ET.