13 Resources to Step Up Your Security Game
by Brandon on April 13, 2016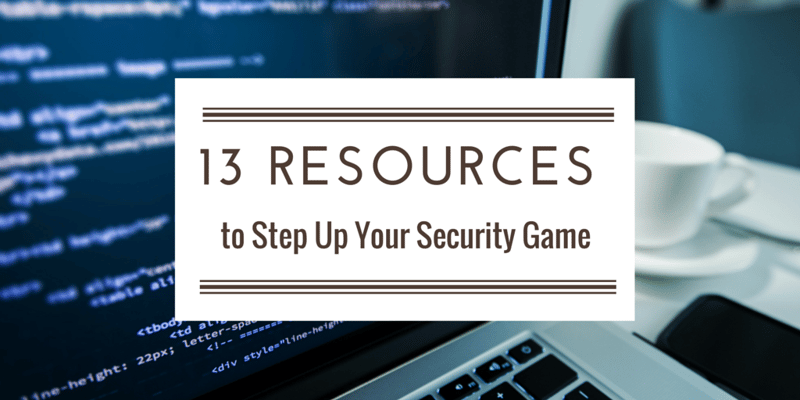 As the Apple and FBI case continues to rage on, I would be remiss not to mention incorporation of cybersecurity into your product, the required time to achieve proper protocol within an appropriate time frame, the necessary training for staff on tech security and the equilibrium of dedicating enough resource for encryption and actual product development.
Yes, talking about cybersecurity can be less sexy than to actually developing a new product, but it's a necessary topic to cover from Day 1 and create a plan as the product continues to be improved.
According to World Economic Forum's Global Risks 2015 report, only 10% of companies worldwide believe they're sufficiently prepared against cyber attacks, meaning 90% of other companies reocognize they are not eqipped to fight cyber attacks. Although the projected annual cost of $575 billion for cyber security and the ~90 million cyber attacks, those are still large enough numbers to get enterprises, large and small, to shake a bit, and can be devastating if they were to scale, then become hacked.
The fact that President Barack Obama created the Summit on Cybersecurity and Consumer Protection should be a strong indicator of the crucial role cybersecurity plays for every person in the world. It is clear there is more work to be done in this area, and most readers have to start somewhere in learning how to combat this.
Cryptography World helps you understand the basics of cryptography, presenting the main ideas in simple language, and provides access to a series of resources to help you apply, and implement, cryptographic solutions.
Social Engineering gives a deep dive look into the art, science and psychology of the Human Operating System, otherwise known as social engineering.
Information Security Buzz is an independent resource providing news for the information security community, latest threat trends, insights, practical solutions, hot topics and advice from around the globe.
4) CIO
Produced by CXO Media and a business unit of IDG Enterprise, CIO (Chieft Information Officer) provides insights and analysis on information technology trends and a keen understanding of IT's role in achieving business goals.
5) InformationWeek Dark Reading
Dark Reading encompasses ten communities each leader by their editors and subject matter experts to give accurate and informative articles for spirited discussions.
The Symantec Weblog uses global research to provide unparalleled analysis of and protection from malware, security risks, vulnerabilities, and spam.
7) Microsoft Malware Protection Center
The Microsoft Malware Protection Center (MMPC) is committed to helping Microsoft customers keep their computers secure. The MMPC stays agile to combat evolving threats.
8) Homeland Security News Wire
The Homeland Security News Wire is the homeland security industry's largest online daily news publication, authoritative, analysis and coverage of the day's most important homeland security stories.
BankInfoSecurity is a multi-media website published by Information Security Media Group, Corp. (ISMG), a company specializing in coverage of information security, risk management, privacy and fraud.
Hoff's ramblings about information survivability, information centricity, risk management and disruptive innovation. Hoff was a CISSP, CISA, CISM and NSA IAM, he now spends the AMF money on coffee.
11) Dell SecureWorks
Dell Securework's Security & Compliance blog is dedicated to providing up-to-date news and information to help IT professionals and others keep their business secure online.
The McAfee security blog talks about research and threat analysis, as well as, provides knowledgeable insight into malware and zero day threats that plague businesses and consumers.
13) Stop Badware
StopBadware is a nonprofit anti-malware organization whose work makes the Web safer through the prevention, mitigation, and remediation of badware websites.
The 13 listed above is the abridged versions of the available resources out there in the great bigh Internet. For more extensive lists, read Cyber Degrees' Uber List of Cyber Security Resources and DDoS Protection Services' Top 100+ Cyber Security Blogs & Infosec Resources. As a reward for reading this listicle, here's John Oliver diving into the entire Apple vs FBI encryption debate.